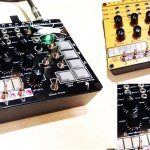 Wenn man so richtig kaputte Geräusche machen will, Powernoise, böse, krasse Töne, die schmirgeln und braten. Dann braucht man dafür ein eigenes Gerät, was man so als Desktop mit sich führen kann und das ist Shard.
Die eigentliche und offizielle Beschreibung, welche Sounds er beherrscht, ist eigentlich für sich total schön und direkt:
"It's capable of generating a huge range of sounds. Drone, data crash glitching, atmospheric deprivation and all manner of unpleasant or quirky sounds."
Das möchte ich ausnahmsweise nicht übersetzen sondern nur so für sich wirken lassen.
Man kann es auf jeden Fall mit "allerhand verschiedenen Krächen" der ungemütlichen Sorte frei übersetzen. Das tut er und hat einige Steuereingänge und ein kompaktes Äußeres. Zerstörung und Zer(r)mangelung ist sein Job und den macht er dann auch.
Die meisten Taster sind deshalb auch eher Umschalter für verschiedene Charakter von Krach und Britzelstörungen bis hin zu U-Boot-Schaden. Man kann definitiv sagen, dass ich gewarnt habe und das das nichts für den Melodiefreund ist. Hier wird scharf geschossen und es wird niemand verschont. Nicht mal Kinder. So ist die heutige Zeit und deshalb reichen da 300 Pfund Ausgleich, um das Gerät selbst zu nutzen, um der Welt einen richtig schönen Hörsturz zu verpassen oder vielleicht auch einfach nur einen ganz gewöhnlichen Schock. Düsenflugzeuge braucht da niemand mehr.
Weitere Information
Die Website von X1L3 informiert über den Desktop Synth Shard
Video