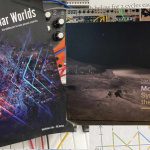 Heute mal zwei Bücher über Modular-Synthesizer in englischer Sprache als Tipp. Das sind Modular Worlds vs. Modular Sound Synthesis on the Moon.
Wie üblich startet man hier mit ein paar Basics in beiden Büchern und rundet das so weit ab, dass man Lust bekommt selbst die Hand anzulegen. Beide Bücher stammen von zwei Autoren. Im ersten Fall (Moon) sind das Anna Martinova ("Tulpa Dusha") and Pete Johnston von "Bantu Sound". Im zweiten Falle (Modular Worlds) Ulf Kaiser, der als Keys-Autor bekannter sein dürfte und Rolf-Dieter Lieb, der im SynMag – Das Synthesizer-Magazin schreibt und damit beide eher aus der Journalisten-Ecke stammen. Ich möchte noch wegen der Transparenz erklären, dass ich Gründer des SynMag Print-Magazins bin und dennoch nichts mit dem Modular-Buch zu tun habe. Im Zweifel sollte man mir da aber nicht zu sehr trauen.
Modular Sound Synthesis on the Moon
In Moon-Modular-Buch (ohne Bezug auf den gleichnamigen Hersteller) geht es um komplexe Patches und wie man sie herstellt, berührt die Aspekte wie man live oder für das eigene Album Performance mit dem Modular angehen könnte aber auch um die grundlegenden Syntheseformen, die in einem Modularsystem möglich sind. Dann sind noch Blicke auf Setups für das Studio und den Betrieb ohne Bühne ein Thema, da gerade das Modulsystem hier wandelbar ist und nicht auf Transport optimiert sein muss. Außerdem gibt es auch ein Kapitel über die Verwendung der Modular-Synthesizer in der Post-Produktion und damit als Bearbeitungselement oder um damit einige klassische Sounds "auszutauschen" und endet in der Idee auch kleine Taschensynthesizer selbst herzustellen.
A Guide to Modular Worlds
Hier gibt es eine Einordnung und Aussichten der aktuellen Einschätzung zu lesen, die bis hin zu MPE in Modularsystemen reicht und die Grundlagen grundsätzlich auf diesem Wege mit erklärt. Etwas später folgen Interviews mit Künstlern und Herstellern wie Jean-Michel Jarre, NIN's Charlie Clouser oder den Machern hinter ACL, Jomox, Moog, Endorphin.es oder Erica Synths (und weitere). Man bekommt also einen Background über die Macher und Entwickler hinter den Systemen. Man bekommt einen Einblick in aktuelle Denkweisen und Ideen der verschiedenen Systeme bis hin zu Software-Modulars von G2 bis VCV-Rack und liest über Selbstbau-Enthusiasten. Dies ist so etwas wie das Gegenstück zu Vintage Synthesizers von Mark Vail jedoch auf Modular-Synthesizer spezialisiert. Das Mark-Vail Buch sollte übrigens jeder "Nerd" mal in der Hand gehabt haben, denn dort liest man viel über die Geschichte der wichtigsten Firmen.
Weitere Information
Moon: Das Buch kostet 60€ und kann über die Website bestellt werden.
Das Modular Worlds Buch bekommt man für 29.99€ über diesen Webshop.
Video