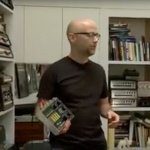 … für einen guten Zweck, wie es so schön heißt. Moby ist ein konsequenter und entschiedener Mensch. Seine Sammlung wurde einige Zeit in der Blogosphäre herumgezeigt, jetzt ist Zeit zu handeln.
Eine Schrankwand voll mit klassischen Klopfern aller Zeiten und Richtungen, aber natürlich alte Zeiten. Das war eine Sammlung, die in diversen Videos auch zu sehen ist. Nun steht sie auf Reverb zum Verkauf ab 11. Oktober, also heute.
Moby bezeichnet sich als etwas besessen, was den Besitz von Drummachines angeht.
The Physicians Committee for Responsible Medicine heißt die Vereinigung an die der Erlös gehen soll. Das Ganze ist also eine Herzensangelegenheit und keine Not. Verkauft werden Synths und Platten.. Moby's letztes Album ist Everything Was Beautiful, And Nothing Hurt vom März dieses Jahres.

Moby verkauft seine Drumcomputer
Die Vereinigung setzt sich auch für Dinge ein wie weniger oder möglichst keine Versuche an Tieren für Kosmetik, vernünftiges Essen für Krankenhäuser bis hin zur ethischen Forschung. Es geht ganz offensichtlich um mehr Menschlichkeit in der Medizin als eine Art Lobbygruppe im positiven Sinne. Es gibt ausreichend Information auf deren Site.
Der Nerd will vermutlich eher wissen, was man so kaufen kann. In kürzeren Worten ist das alles, von Rhythm Ace bis TR-909. Es wird schlicht und einfach alles verkauft, was interessant ist, inkl. DJs können Platten kaufen. Wer die Sachlage kennt, dürfte wissen, dass einige Maschinen ziemlich gute Preise erzielen werden. Andere sind vielleicht wieder so speziell oder älter, dass sie nicht ganz so viele Interessenten haben. Aber es wird eine nennenswerte Summe sein, die die Aktion generieren wird.
Viel Glück, Moby! Und an dich – Viel Spaß beim Finden und Kaufen, falls du dich als Käufer betätigen willst oder die Aktion gut findest – das wäre auch ein Support.
Info
Video